Well, my training is really starting to ramp up now that I am dedicated to running a 50K in the spring. I was going to run the Brazen Racing Diablo 50K Adventure in April, but unfortunately that is now out. There is this coaching class through the RRCA that I have been waiting
FOREVER
for, and it finally is coming to SF. When is it? Of course, the same day as my 50K. So now I am in the market, looking for new 50Ks. I was going to do a PCTR one, as it was perfect timing and seemed like a beautiful course, but I have heard too many negative reviews of them lately to risk my first 50K on.
So, I am going to go for a destination race for my first! I hope I get in... I am planning on doing the Chuckanut on March 31st in Portland, Oregon. Only thing is, registration filled in 2 hours last year, so I have to be on my game to get in! The elevation doesn't seem too terrible, and I think as long as I continue training on Quicksilver/Sanborn, I will have some great training leading up to the race. Here's a map of the course:
Pretty excited about it. Speaking about trail running, I put in almost 30 hours last week on Quicksilver... by Tuesday I was seriously dragging out there on the hills. I think it was mental and physical... I guess I need to not put in 5 trail runs in 7 days. I'll try breaking it up more this week and giving myself some rest days.
In other news, let me tell you HOW EXCITED I am for all the new shoes that have come out lately! I wanted to do a quick review on some of them. Working at a RSD gives me some great opportunities to try out the newest and coolest from vendors. Each post I will focus on a different brand. Today, I am going to focus on Brooks. I am going to review Brooks' Pure line, the new Adrenaline. Coming up, I will review the new offerings from Asics, Nike, New Balance, and Mizuno.
Brooks Pure Project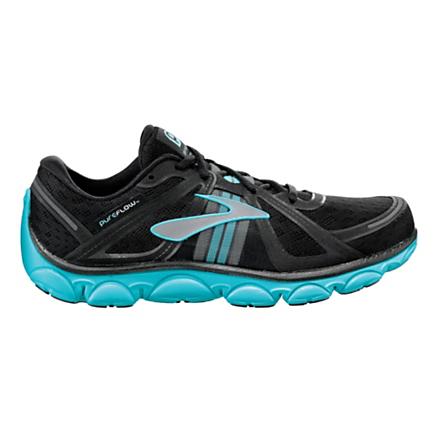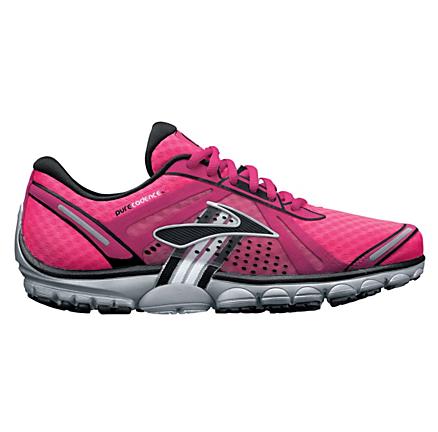 PureConnect PureFlow PureCadence
First, I'll review the road shoes in the line. My first thought when I put on all the shoes on was, wow. This fits like a glove! All of the shoes have a fantastic lacing technology that really holds your forefoot in. The
PureConnect
is the lightest in the line of the Pure Project, and has a separate toe flex line that allows your big toe to operate independently. Personally, I felt like the shoe was a bit stiff, but that will probably change as you break it in more. The heel is SUPER low, and I felt a little like my heel was going to come out of the shoe, but it didn't as I ran around a little. The Connect is also super narrow at the base, which left me feeling a little like I was balancing on the shoe. I also immediately noticed the high arch when I put the shoe on, so if you have higher arches or like more support in the arch this is the shoe for you. Keep in mind this is a minimal shoe, and you can definitely tell. There was not a lot of cushion in the shoe, which will be great for those training into more minimal shoes.
The
PureFlow
is another neutral offering from the Pure project, but this shoe does have a more noticeable amount of cushion. The "NavBand" on the shoe is awesome, and definitely keeps the foot secure. This shoe runs a little small as well, so I would recommend trying the shoe on before getting it. Overall, I thought the shoe was a better fit for my foot than the Connect. It felt more stable and had a much less noticeable arch. I can see myself running a longer distance training run in these, while the Connect would be kept for more short workouts. I also thought the Flow was more flexible than the Connect, which is weird since the Connect is supposed to be the more minimal of the shoes.
The
PureCadence
is the "stability" option in the Pure line. Instead of having a traditional wedge like most stability shoes do, the Cadence has an "internal PDRB" which is a soft density ramp placed in the midsole of the foot, supporting any pronation as you land. They also included a reinforced heel in this shoe which stabilizes the foot as well. The Cadence is my second favorite Pure shoe after the Flow. It again has a lower arch than the Connect and I felt like it had a slightly wider toe box than the other shoes. I also felt like my foot was completely locked in this shoe, with no heel slippage or midfoot sliding.
The final Pure shoe is the
PureGrit
:
I had to try this one out, as Scott Jurek helped to design the shoe and he is one of my running heroes! I was expecting a lot of this shoe, and I think it is a good shoe for a certain type of terrain. Overall, it felt pretty similar to the rest of the Pure line, which is to be expected. It felt most like the Cadence, which made me happy as that was one of my favorite shoes in the line. Again, it had the same low rise on the heel, which potentially could be good on downhill trails as I don't think it will cut too much into the back of your heel. It is also super lightweight, which might not be good for more technical trails where you will encounter rocks or other impediments. There really wasn't too much between my foot and the ground in this shoe, so if you want to feel the trail this is definitely the shoe for you. The grip wasn't super awesome on it, here is the bottom of the shoe:
I would probably use this mainly for harder packed trails like Rancho or softer trails that don't have any intense downhill or uphill climbs and that don't have much leaf cover or rocks.
The last Brooks shoe I am going to review is the Brooks
Adrenaline 12
. Full disclosure, the Adrenaline 12 is one of my favorite shoes of all time (coming in second only to the Cumulus), and I LOVE LOVE LOVE the Adrenaline 11. I was super happy that Brooks did not change too much from the 11s to the 12s. Checking out their website, it seems they mainly just changed the upper by adding some more mesh. Brooks continues to use it's DNA cushioning technology and caterpillar crash pad on the outsole. As soon as I put the 12s on, I was like YES! I AM HOME! *cue happy shoe dance* OK, I really like the Adrenaline 12s!
The Adrenaline's have a much truer fit than the Pure line (it seems like the Pure line and the Cascadia's have the same sizing, where they tend to run a bit smaller than your true size). The 12s had a wider fit throughout, and there was an awesome balance between cushioning and stiffness, which is perfect for stability runners. There was definitely more cushion in the heel than the forefoot (as opposed to the Pure line which as pretty much 0 heel cushion, with most of the cushioning in the forefoot). If you are a forefoot runner, you may feel like your heel is a bit weighed down. For me, this has been a slight issue when I begin my runs, but by my 6 I don't notice it anymore, and by mile 13 I am very thankful for my cushy heel. There is also a great rise on the shoe, no annoyances in the heel or ankle area.
So, those are the new Brooks shoes I wanted to test out! If you are planning on moving into the Pure line, make sure you try the shoes out before you purchase them and make sure they are right for you. They have a hugely different feel than what you may traditionally expect from Brooks, but that could be a good thing! I would recommend trying out the Cadence or the Flow before moving into the Flow, and make sure you are familiar with the terrain of the trails you are running before you test out the Grit. The Adrenalines are a tried and true classic as always, and completely lived up to my expectations.
That's it for today, stay tuned for my reviews on other brands coming up! I hope all you readers have a wonderful holiday this weekend, and get in some runs to help burn off all those calories from cookies and cake :)
Happy running!
Meghan